Unlocking & Cutting Service for Bicycle Locks
When it comes to a bike lockout, different reasons can cause this to happen.
Yet, the main two reasons are a broken bike lock or lost keys.
Nevertheless, irrespective of the cause, you'll need a reliable locksmith to overcome the problem. 
Luckily, you can call OnPoint Locksmith to help solve your bike lockout problem in Vancouver.
We are a bonded and licensed bike locksmith available 24/7 to cater to your locksmith needs.
Therefore, there is no need to panic; instead, give us a call any time of the day or night.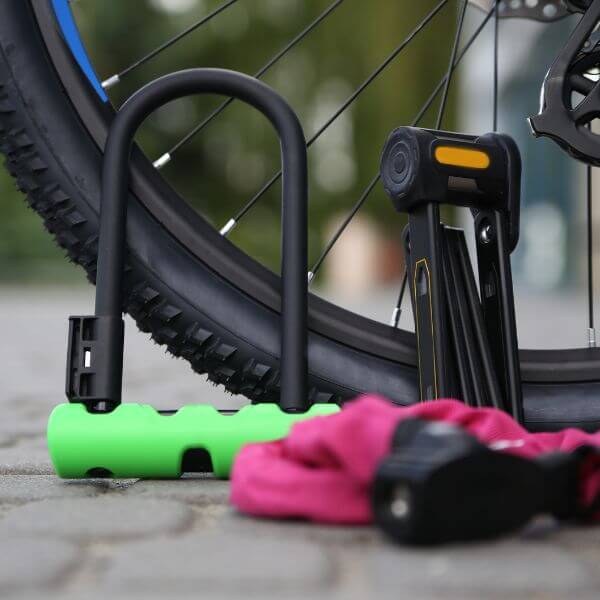 Do You Have Problems With These Bike Locks?

When it comes to bike lockouts, we at OnPoint Locksmith can help with the following locks to repair and provide you with security for your bike:
D Locks – known as the U-lock as it has a U-shape was made in the 1970s sold with a silver or gold secure rating. For highly urbanized areas where people can use bolt cutters, this is the best bike lock you can have.

 

Chain Locks is a firm yet solid lock with sufficient strength to even withstand drilling and comes with a Sold Secure rating.

 

Cable Locks – these types of locks are unsuitable for use as the primary lock. You can use it as a secondary one instead and actuated with a passcode.

 

Folding Locks – the locks are the same as your chain lock but flexible depending on the number of joints present. This one is sold with a secure rating compared to your cable lock. But there is a shortage on the market for them.

 

Combination Locks – The combination lock is a wise choice for the person not so confident to handle keys. It also provides a higher level of security with a combo lock with up to five digits.

 
At OnPoint Locksmith, you will not wait for hours when having bike lockout problems.
Our mobile locksmith team will arrive in time to resolve your concerns.
We will promptly address your concerns with our quick response available around the clock. 
At the same time, we provide a guaranteed service with extensive experience for all types of bike lock repairs, installation, and rekeying. In addition, we are the best emergency locksmith providers in Vancouver and surrounding areas.
Call us today, and our qualified locksmith team will be there in minutes.