The Best Solution For Locksmith Needs!
With decades of experience in the locksmith industry, we know how you feel when lock issues arise at the office or home.
Of course, you want to have it fixed fast and professionally.
Still, you do not want to feel you are being taken advantage of.
That is why we at On Point Locksmith Vancouver do things differently.
We provide you with options to decide what works best for you.
We bring the experience and expertise, but you remain in control.
Whether you need an emergency lock repair, replacement, or new installation, we present you with the best solutions for your locksmith needs.
In addition, we always give an upfront rate price.
Therefore, you can feel assured that the quoted price you get is the one you pay and it will be affordable. 
We provide the highest quality work and are proud to honor our promise. If anything is not done right the first time, we promise our technicians will take care of it.
No matter your options, On Point Locksmith always aims to leave everything in your control.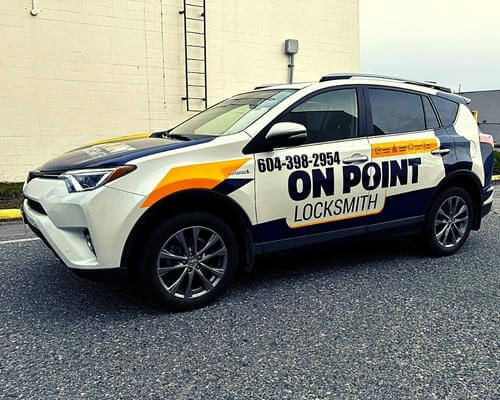 Abdullah Baaqil
Got locked out. Called and within the hour was warm inside my home again. Quick and easy. No hassle!
Rylan Richards
Awesome service Raz is a very nice friendly guy probably the best price you will be able to find in the lower mainland for a key replacement from scratch half the price of a dealership 👍
Nota Llama
Great service, did not have to wait any longer than expected. Amit was very nice and helpful.
Customer Focus Locksmith Service