Locksmith Employment Application
Are you a qualified independent contractor? Do you want to enjoy the benefit of a year-round job? Do you want to experience different challenges every day on various sites? Maybe you dream of a great future. 
OnPoint Locksmith Vancouver has decades of experience and a reputable reputation in this field.
We provide professional services and offer a wide selection of locksmith services. In addition, we have a strong team of employees that help fulfill customers' locksmith needs. 
We are looking for technicians in the industry.
Do you want to take on new challenges to grow in a family with an awarding atmosphere? 
Keep the trucks clean and load and unload equipment to place in work areas
Verify the equipment at each job and always complete work on time

 

Install, repair, and maintain different residential to commercial locks
Clean-up after the work is complete

 

Use tools as directed

 

Maintain and check the truck equipment

 

Perform tasks as required and ensure to comply with the safety standards
Track inventory on the mobile locksmith trucks
Locksmith Installation and Repairs:
All lock brands for commercial and residential doors
Lock rekeying, high-security locks, car keys & fobs of all brands

If you still need to get competency cards, we will take steps to obtain them.
In addition, you will receive continuous training on the products and technical aspects, from installation to repairs. 
What OnPoint Locksmith Vancouver Offers
We proudly offer all our employees an energetic setting with a flexible schedule. To us, your passions and family are essential. We encourage our teams to live a healthy and happy life. At OnPoint Locksmith Vancouver, we listen and provide competitive compensation to continue with your salary path.
Benefits
Respect to Employees and Colleagues

 

Exceptional Appreciation to Employees and Their Commitment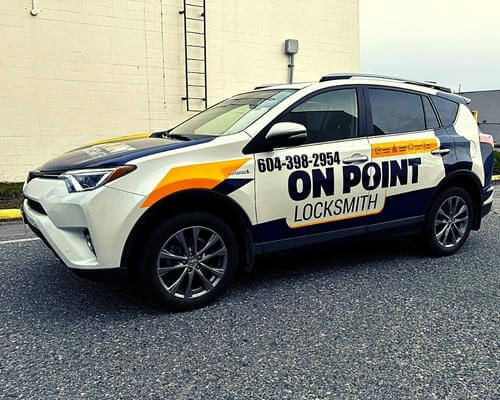 Luke Fedorchuk
I was very satisfied with their service. He arrived 15 min earlier than the 2 hour window they gave me and was finished up within an hour after that, with the two keys I had requested and an additional third backup door key as a bonus. Pleasant service and delivered results on a short notice. Would recommend to a friend.
Meg Bye
Onpoint Locksmith was amazing! A super nice guy named Amit came within an hour of the call and worked on both my broken front and back doors. He was so respectful of my home, knowledgeable of his craft, fun and did a great job. Would definitely use this local company again anytime.
i trasgu
This company is fast, effective, and honest. I am very happy I called them; locksmith David was very knowledgeable, addressed all our needs, and provided very good solutions. So honest! If you need a locksmith call them, they are really good and come to help fast. I would give them more than five starts if I could.
Erin M
My locksmith Amit was very kind, professional and extremely fast! Was at my place in an emergency situation within 30 minutes and finished quickly. Best locksmith service I have ever had. Can highly recommend!