Commercial Door Repair & Installation
commercial door repair for all types of doors
When you run a commercial business, maintaining the security on the doors of your premises is crucial.
Doors are vital components of the aesthetic and functionality of your property or establishment.
So when you spot any signs of damage, it's always a great idea to call an expert to take care of that for you.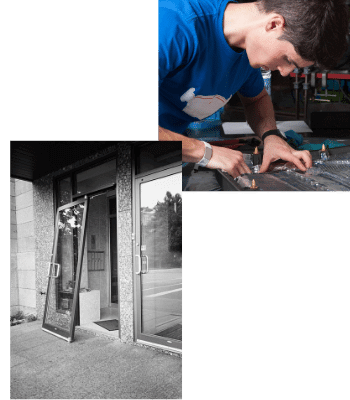 Our team at On Point Locksmith has years of experience providing a full range of door services to a variety of clients across Vancouver and the surrounding areas.
Depending on your unique situation, we can refurbish, repair, or completely replace your current door.
Our commercial door reparation services include:
Changing door closers
Repair & replacement of full select hinge
Glass repair within the frame and thermo
Reparation of standard and non-standard glass sizes
Order and replacement handles
We do all the locksmith work
All work performed on-site
Our workers have extensive experience repairing double doors, steel doors, and commercial grade glass doors. We offer a wide range of door repair services, including (but not limited to):
Door jambs
Door frames
Door seals
Cracked or chipped glass
Changing and repairing locks
Commercial Door Installation
Our fully licensed and insured door installation specialists at On Point Locksmith provide commercial door installation services throughout the entire Vancouver area. 
We always ensure that the doors we install are durable, long-lasting, reliable, and fit the needs of our clients' commercial property.
Everything from size, material, security, to functionality will be taken care of.
Our door installation services are always priced fairly, and we stand by the quality of our workmanship.
Benefits of Hiring a Professional Service
As tempting as it may be to repair or install the doors yourself, we always recommend hiring a professional with the essential knowledge and experience to do the job.
Having a poorly installed door can cause the doors to incorrect sealing, which can result in air infiltration and ultimately raise your heating and cooling expenses. 


Licensed and trained professionals will always take the necessary security measures to ensure the safety of your property.


It's less expensive in the long run. Do it right the first time and avoid paying much more later for more frequent repairs and installations.
Trusted Commercial Door Repair and Installation in Vancouver
If you are looking for experienced and reliable commercial door repair and door installation experts in Vancouver and surrounding areas, look no further. 
On Point Locksmith team of fully-qualified experts know how to combine efficient service with an eye-catching finish in Vancouver.
Regardless of what your needs are, if it involves door security, we can help!
For more information, contact us on (604) 398-2954 or submit your message on our website.