Door Repair and Replacement Services
Guaranteed Solution to Your door Repair and Maintenance Needs
Doors are the first line of defence for your home or business. 
They keep out intruders, the weather, and anything unwanted. 
However, over time doors may not work as intended.  They can warp, sag, and even rust. 
Locks and keys can be difficult to operate or fail completely.
Way On Point Locksmith ?!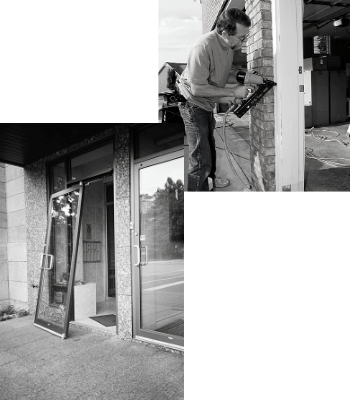 Door Adjustment & Repair - Doors & Hardware
At On Point Locksmith Vancouver we are experts at working on doors of all types and sizes. 
We service both commercial and residential customers and can handle anything from a simple re-key to door repairs and replacement and simple maintenance tasks. 
We also are familiar with electronic control systems.
Types of door we repair:
Sliding doors
Garage doors
Commercial doors
Glass doors
House doors
Automatic door
and more..


We will start with a phone call or contact information throughout the website. 
We will arrange for an onsite visit.  At that point we can thoroughly assess the damage and offer estimates and alternatives. 
Depending on the situation, we can help refurbish your current door, repair it, or completely replace it. 
We are also able re-use the current locks or give you an entire new set.  Your security is our main priority. 
However, we won't suggest a replacement if the components are still functioning properly.  
Our Trusted Door Repair Services in Vancouver, BC
We encounter various problems like a door that is rubbing against the frame. 
That is simply a matter of re-hanging the door and balancing it appropriately.  After a break in, we are happy to install new, more secure doors, as well as changing all the locks. 
We are physical security experts and can handle all elements. 
We have worked on double doors, steel doors, and even commercial grade glass doors.
Common door problems:
Cracked, chipped, or shattered glass
Missing or worn-out door seals
Damaged door frame
Difficulty opening or closing doors
Broken door jamb

 
If you are experiencing annoying sticking or difficulty opening and securely closing a door, need an upgrade in either the door or its locking mechanism, or a completely new door, frame, and all, we are the one-stop call you should make. 
One of our representatives will be happy to speak with you to get the details of the issue and our trained, insured specialists can be dispatched to your home or office at your convenience or immediately if there is an emergency.