Commercial Locksmith Services
If you're looking for a trustworthy Locksmith, you've found one in On Point Locksmith
In business, time is money. 
We understand that our commercial customers' needs should be handled efficiently and promptly. 
When you contact us, we will provide an estimate of the cost and after we have come to your operation and assessed the situation, we will be able to offer you a firm price quote.
Way On Point Locksmith ?!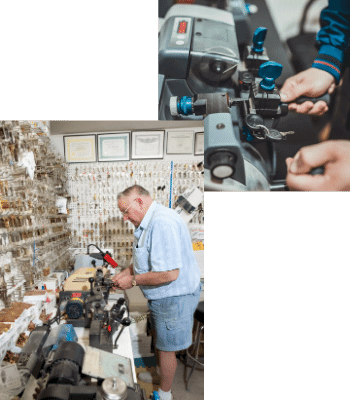 Commercial Door Lock Types we install & repair
We stock the best commercial-grade lock hardware
Upgrades are a frequent request.
We are experts in a wide range of commercial and industrial lock systems.  Our professionals maintain education on all the latest technologies to better serve your needs.
We regularly work with healthcare providers, offices, hotels and motels, apartments, restaurants, churches, and public buildings.  Contact us to see how we can help you.
We work with many types of doors and locks including "push bar" or "exit devices". 
We also understand your concern about keeping costs to a minimum. 
For that purpose we are able to simply install new combinations to any or all locks, which is a less expensive alternative to replacing all the keys or locks.
Tips to keep your business secure
Be sure exterior doors are metal and free of gaps to deter someone from using a pry bar.
Use commercial grade locks and deadbolts with latch protectors
Assure that all door hardware is in compliance with safety codes for the protection of you and your employees.
Use restricted keyway locks. (high security)
Rekey locks with employee turnover.
Rapid & Responsive Commercial Locksmith Services

Fully Equipped Mobile Response Vans
We understand that each business is unique.  That very often means that protection and access are different from one company to another.  We have the ability to offer installation of master key systems and cylinder matching.  We also work with electronic locks and other systems for maximum security.
We employ professionals who are skilled in the details of working with commercial and institutional clients.  We work with businesses of all sizes and have access to the products necessary for:
Lock repair
Re-keying
Master key systems
Keyless entry systems
High security locks and security doors
Access control systems
Fleet vehicle key service
Lockboxes
Mailbox keys
Emergency lockout service
Commercial Locksmith FAQs
How much does it cost to rekey a commercial lock?
To rekey a typical commercial lock, the cost is between $100 – $200, and to replace the door lock can be between $250 to $500, depending on the lock you need to replace.
Are commercial door locks different?
A commercial door lock differs from a residential lock as it is graded for commercial use. The locks are graded on a scale from one to three, and high-security commercial door locks can be grade 1 to grade 2. 
What is a commercial-grade lock?
A commercial-grade lock has a stronger rating than your residential one. The Builders Home Manufacturers Associates determine the commercial lock rating and is credited by the American National Standards Institute for performing these gradings. 
What is the difference between a commercial lock and a residential lock?
The commercial lock differs from a residential lock as it needs to handle the demand of business to commercial real estate use. The commercial lock is more durable, secure, and can withstand daily use.