Continuous Hinges Installation
If you're looking for a trustworthy door repair service in Vancouver, you've found one in On Point Locksmith
Does your business or residential building have a door that is rubbing against its frame, doesn't close properly, or even detaches? Then it's time to call a specialist to improve your door's functionality with the help of continuous hinges. 
The team at On Point Locksmith are experienced and trained to seamlessly install continuous hinges to your doors.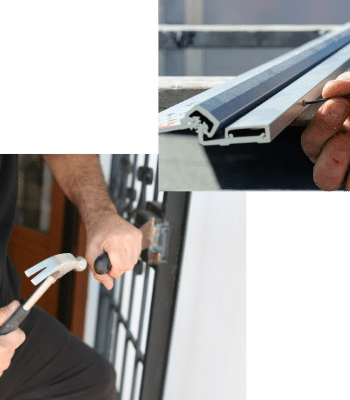 The Benefits of Continuous Hinges (Piano Hinges)
Opting for continuous hinges can benefit you and your commercial space in a number of ways by:
Spreading the weight of the door over the whole hinge. This helps keep the door in a specific position and reduce wear and tear. It can be incorporated within the whole unit to provide the door with sturdy assistance along the entire length.


Extending the lifetime of your door and doorframe. Make your door last longer and avoid replacement or recurring repairing expenses.


Making the door easier to operate. Continuous hinges will offer support and eliminate the pressure from heavily-used doors.
This will minimize the effort required to open and close even the largest commercial doors, which makes them perfect for doors in building lobbies.


Making less Noise. A continuous hinge typically produces notably less noise than a conventional hinge.


Being affordable. The best part about continuous hinges is that they won't cost you an arm and a leg!
Signs of Problems Associated with Door Hinges
Door is dragging on the floor
If door hinges are weak or damaged, the alignment of the door will change.
This may cause your door to drag on the floor and face difficulties with shutting the door smoothly.
If you have a squeaky door hinge or it's creaking loudly, you could try oiling it with some WD-40 to prevent rust and add lubrication to the door hinges.
Why Hire a Professional door repair Service?
There are many services out there to choose from when it comes to installing continuous hinges to your door. However, we always recommend going for fully qualified and reputable emergency door repair company professionals. 
And the main reason for that is unskilled installers use incorrect methods and tools that eventually end up causing more damage and costing you way more to repair it.
Improper installing can bring about pulling out of the door's surface, dragging on the door, or rubbing on the frame.
It's better to avoid all that and call an expert.
After all, continuous hinges are supposed to solve those problems, not cause them.
Reliable Continuous Hinges Installation Service in Vancouver
If you're considering improving the performance of a door in your building that is heavily used, we're here to help you out! Our door repair service is available in Vancouver and around
On Point Locksmith offers trusted continuous hinge installation services in Vancouver, which are well-known and valued for their convenience, quality, and fair prices. 
Don't hesitate to call us at (604) 398-2954 for more information, or request a free quote today!