Change your key, without changing the lock
Have your keys been stolen or lost? Are you moving to a new home or workspace?
Rekeying the locks for your business or house is a safe and affordable way to go.
On Point Locksmith Vancouver offers expert lock rekeying services for commercial and residential clients in Vancouver and surrounding areas. If you need your locks rekeyed, just give us a call.
Benefits of Rekeying Your Locks:

Saving Money
One Key, Multiple Locks
Keep the Existing Hardware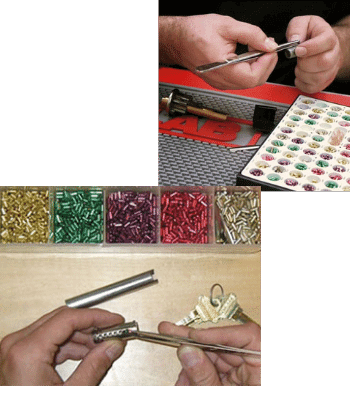 Difference Between Rekeying and Changing the Locks
When a lock is rekeyed, the pins inside the lock are changed, so that the old keys no longer fit the lock and can only be opened with a new set.
Changing the lock, on the other hand, will require replacing the entire lock.
While changing a lock has many advantages, it is a more expensive solution and will take more time to carry out.
Not to worry, though, our lock experts will always assess your circumstances and provide you with the fastest and most cost-efficient solution.
Our fully qualified Vancouver locksmiths are trained to handle any type of residential and commercial locks – whether it's deadbolt locks, knob locks, smart locks, mailbox locks, cabinet locks, or any other type of lock, we are here to help!
Residential Lock Rekeying - FAST, EFFICIENT REKEYING
Whether you're concerned about the safety of your new apartment, or your keys have been stolen or lost, our residential lock rekeying services offer an incredibly fast solution. Our expert locksmiths will rekey any lock for you at an affordable price while meeting the highest of standards.
Commercial Lock Rekeying - SAME DAY SERVICE
Commercial lock rekeying is one of the most affordable solutions when it comes to unexpected circumstances, such as losing your set of keys, moving to a new building. Our locksmiths are fully licensed and trained and will provide you with any necessary lock rekeying services and a brand new set of keys. Your security is our top priority.
We provide master key systems that will give you one key that can open any door in your building or space. Both commercial and residential clients can benefit from a master key system. It improves security, convenience, and gives you full access to your property or building.
At On Point Locksmith Vancouver, we take professional master key system services to the next level!
If you're looking for professional lock rekeying services in Vancouver, don't hesitate to give us a call at (604) 398-2954 or request a job estimate online.