File Cabinet Locks and Keys
A Complete Solution For Your File Cabinet Locks And Keys In Vancouver
On-Point Locksmiths ensure the businesses and homes in Vancouver and the surrounding areas stay safe and secure around the clock.
We use easy and effective technology to satisfy your security needs. Our expert customer assistance is here for you if you ever need help.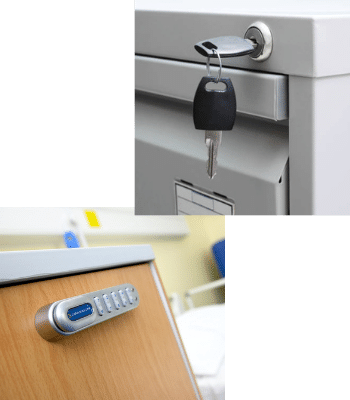 Replacement Keys for file cabinet & desk locks
We all have lost one set of keys or another before. If you lost the key(s) to a file cabinet with important business documents, that could be detrimental. A lock is not nearly as useful without the key.
We can create new keys for you if you ever lose them. Locks have a code on them as a reference like a fingerprint. The code is generally located on the cylinder of the lock.
If you send us the code, we will make you a brand new key according to the code and then send you the key in the mail. 
It's easy and inexpensive while allowing you to save money by not needing to buy a whole new lock. 
If the code is scratched a little bit or completely unreadable, don't worry, we can still make a copy. We always have experts on hand to deal with these kinds of problems.
We also provide locks to replace yours if they are broken, old, or to simply install them. We service many upgrades of security as well. Our stock of locks covers a wide range of applications that are a sure fit. 

File cabinet & desk locks Installations in Vancouver
If the desk or filing cabinets you use for business do not have a lock, sensitive files can be at risk. Our expert craftsman can install a brand new lock for you if you decide to secure your documents better.
Our trained craftsmen are sure to install your new locks without damaging anything. Wood, metal, or any other kind of material that your security storage is, our On-Point professionals do their job so well you would think the lock they installed came with the cabinet. 
Our dedicated staff is here around the clock for all your safety and commercial security needs. Get in touch with us!