Glass Door Repair and Sliding Glass Door Repair in Vancouver
Glass doors make a pleasing aesthetic addition to any home or business. It is easy to take care of and looks elegant, allowing for a clear view of the outside.
But what happens when it happens to fail? You're in luck as On-Point Locksmith Vancouver can repair glass and sliding doors. We quickly provide you with maintenance and repairs to any glass door from residential to commercial properties.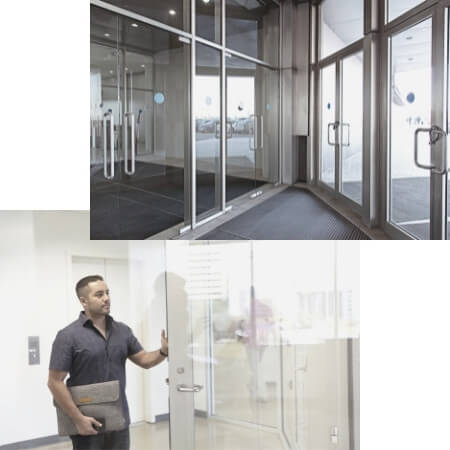 We Replace, Repair & maintain sliding glass doors
Glass is easy to clean and maintain but one thing, it is very fragile. Sometimes a child can throw the ball into it.
Sometimes a bird flies into the glass, or a stone from a weed eater is picked up causing cause it to crack, leaving you with an unsightly glass door and open space.
This means it needs a replacement.
You need to deal with a cracked glass door fast before that small crack becomes a huge hole. Our team has decades of knowledge to help you with your commercial and residential glass door repairs.
Common Sliding Door Problems we repair:
Broken rollers within your sliding door
The track is completely worn down
Faulty locking mechanisms
Bottom of the door has collapsed
You have low-quality rollers which keep breaking
We Can Help Maintain Glass Doors
Your glass door opens up the world to the outside of your home or business and allows in visitors. For this reason, it needs to be maintained and clean to keep working.
Our experienced professional team will help keep your glass door in tiptop shape to last a long time.
Once we service your glass door, you will be amazed at how new it looks, leaving a professional touch for all to see.
So give your glass doors some TLC to keep them looking great today.
Do You Need an Installation or Repair
On-Point Locksmith Vancouver takes care of repair and glass door installations for commercial and residential properties.
We are at your call around the clock every day of the week. Call us for your emergency door repairs any time of the day and night.
On your return from vacation, work, or the day out, you notice a massive crack in the door or break-in attempt; we are ready to help.
Call immediately to inform us about your situation, and we will be there in a flash to get things back to normal.
No matter what type of door you have providing entry to your property, we can help keep it maintained, repaired, or replaced.
On-Point Locksmith is your all-around door repair provider in Vancouver.
We always get the jobs we do right the first time so that you can get moving on with your busy life.