Burglary Damage Repair Services
On Point Locksmith can be on the scene the sam day to make the necessary repairs
When you have experienced a burglary, there are probably several things running through your mind.
However, at the top of the list should be making sure that you will not have another attempt or fixing the damage to the locks that this attempt has caused.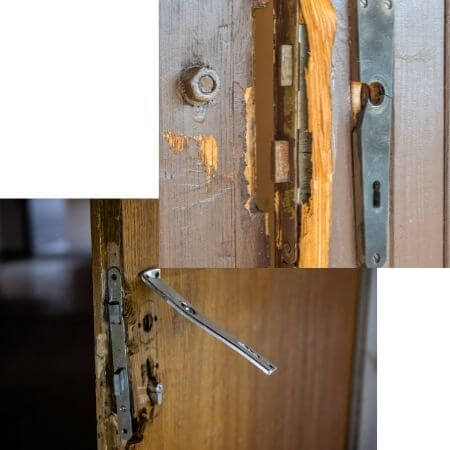 Following A Break-In Get Your Locks Fixed Right Away
 When you do have this issue, then it is time to reach out to OnPoint Locksmith.
We serve the Vancouver area and are ready to be at your door when a burglary attempt has happened with our crew of technicians that are on stand by for any emergency service, 24 hours a day, 7 days a week. 
Protecting Your Home or Business After a Break-In
The key is to act quickly when you have experienced a break in.
You of course, have called the police to deal with anything that may have been stolen or damaged.
However, are you thinking about your locks? Remember, if you leave the locks as they are after a break in, then this leaves you open to more break in's.
If the door has been damaged around the lock or the lock itself has been damaged, then you need to make sure that this is getting repaired as quickly as possible to ensure that you are safe. 
Our emergency locksmiths realize the potential that a burglary can cause for business owners and homeowners.
Therefore when you call us and state that you have damaged locks due to a break in, we are going to get someone to you as soon as possible.
We pride ourselves on our quick approach and our professional services when it comes to lock replacement and repair.
Once we arrive at your home or business we are going to look at the damage that has been caused. In many cases, we can repair the lock so that it is functioning as it should. However, if the damage is too much to repair, we will make the suggestion of lock replacement.
Our goal is to ensure that the lock is working properly and that you feel safe after a break in at your home or business. 
Ways to Protect Your House of Apartment
When it comes to a burglary attempt or damage to the locks, you  may then realize that you need more than what you had. That is what we are here for!
While we can repair the lock that has been damaged, you are going to find that we can also make suggestions on how to improve the locks that you have on your doors.
For example, we may recommend that you go with a jimmy lock that are meant for withstanding physical force from people trying to break these.
We may also consider plate security which is basically a latch protector to prevent the door from being kicked in or jammed open. 
Our expertise is meant to keep you safe and your property safe.
Whenever you have experienced a burglary, then you need to call OnPoint Locksmith to get your home or business protected!