The Best Residential Door Repairs at Your Home
Does your residential door need repairs or an adjustment? You're in luck as On-Point Locksmith in Vancouver's got you covered.
Maybe construction methods failed, or your building shifted, causing the door to jam.
Our mobile residential home door repairs technicians can help.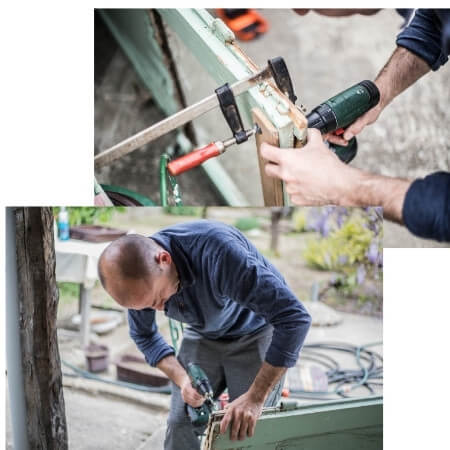 We bring our store to your door and can fix 90% of all door problems on the spot
Our mobile door service crew comes to you with everything needed to ensure your entryway is in working order. Our trucks are equipped and organized to provide all in Vancouver with a professional door repair service.
In addition, our technicians have liability insurance, workers coverage, police security clearance, and vehicle insurance.
For this reason, we can provide you with prompt and safe service to get your broken door working correctly, and our priority is to keep you safe.
We have well-equipped staff with tools to adjust or repair your home doors.
No matter what door it is from the interior, exterior, glass, patio, or garage door, we can help.
We have the expertise to make the needed door adjustment or repairs efficiently and fast
Yes, we repair and replace doors and hardware
If your entry doors are left with a deadbolt or handle not latching caused by buildings shifting, we can repair your lock.
Our crew has the expertise to fix door hinges, door handles, re-square the door, and replace deadbolts.
So whether the door is rubbing at the bottom, side, or top, we can adjust it correctly for you.
We Fix Sliding Doors and Patio doors
When it comes to fixing sliding doors, you need a service or parts as the door is unique. No problem, we are ready to provide you with the best residential door repair service in Vancouver.
Whether it is a garden door that needs adjusting, replacing a latch, or the rollers, our trucks are equipped to handle that.
Available 24/7 to Help with Mobile Door Repairs and Adjustments
No matter what time of the day you need assistance with a door repair, our teams are standing by to take care of it for you.
Our staff gets ongoing training on door repairs and adjustments to fix any type of door. Our crew goes through locksmith training and supervised in-store management as well.
On-Point Locksmith has a 24 hour mobile home door service with trucks stocked with hardware for any type of repair.
Whether rain or snow, our crew will come to you to make the repairs. We bring our service to you, so if you're stuck inside the home, give us a call today.