Emergency Door Repair & Replacement
The Best Emergency Door Repair & Replacement Vancouver
Unexpected things can happen to doors when you expect it least. Maybe you're getting ready to go to work or host a big event, and the door fails to open.
You put a lot of care into selecting a durable and secure entry for your business or home, but doors are not invincible.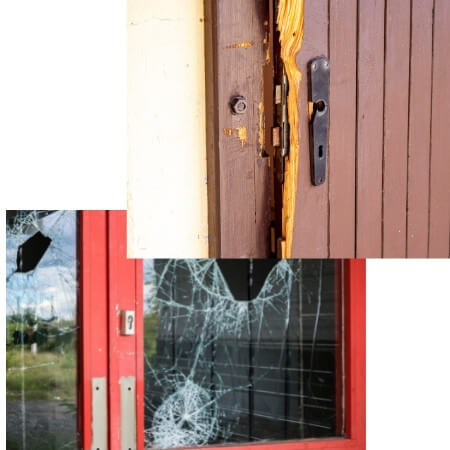 How Do Our Emergency Door Repairs Work?
After receiving your call, our crew will be at your business or home to take care of the door repair. We will try our best to make it as speedy as possible to assess the damage. After evaluating the damage, we will be able to provide you with a solution right there.
Our team comes prepared with the right tools and has the expertise to handle any door concerns effectively.
On-Point Locksmith is available in Vancouver, offering 24/7 emergency services. Our technicians stand by every day and all day to make sure you have a door repair service available when needed the most.
Has Your Door Been Broken In? Get your door repaired today
Vandalism can come in many forms, from forcing the frame to breaking the door or even graffiti. If you live in the metropolitan area, you may find some graffiti artists vandalizing your property.
If the door needs replacing due to the unforeseen, we could help replace the door affordably and fast.
Whether it is a break-in door repair or an attempt to break in, give us a call right now. Whether you are on your way to work or returning home, our emergency door repair team will come to rectify the problem. Sometimes there is not a need to replace the door entirely, but only provide a repair.
Rust or wear & tear can leave an impact on the door, whether it is residential or commercial. If the door is not locking because of wear and you are uncertain if it can stand for prolonged use, please contact On-Point Locksmith Vancouver now.
Maybe the door frame is causing the door not to open/close and stuck. With our emergency door repair service, we can help replace or fix the framework to make sure the door unlocks with ease.
We are Your Emergency Locksmith Provider
On-Point Locksmith Vancouver is available 24/7 to provide you with emergency door repair and replacement services.
We are your one-stop repair shop with fully equipped trucks and experienced technicians to handle all your door repair concerns.
Call us today or complete the online form for a quote now. So do not get locked out of your home or business and give us a call.