Panic Bars Installation & Repair Services
If you're looking for a trustworthy panic bar service in Vancouver, you've found one in On Point Locksmith!
How do the panic bars at your business work? Or maybe even if you own a rental apartment building, how are these push bars performing? Push bars are known by many names including crash bar, push bar and exit bar, but no matter what you call it, it has the same function.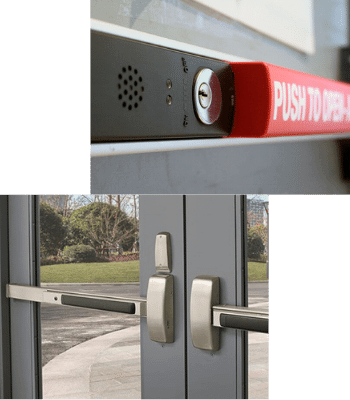 exit device installed on commercial doors and fire doors which allows fast and easy egress.
They are meant to allow people to push and leave the building in an emergency with minimal effort needed to do this.
IN every commercial building and where there are going to be many people present, these panic bars are needed according to the building codes.
Thus, when they are not working or they are in need of repair this is something that you want to handle right away!
Do Your Doors Require Exit Devices?
On Point Locksmith offers panic bar installation and repair services that you can count on in the Vancouver area.
We always make sure that how we operate is going to be in compliance with all the safety codes that each building has, as well as any other professional standards that are out there. We install only the best brands of panic bars.
This may include those from brands like:
– Detex
– Hager
– And much more!
The Options You Have - type of exit devices we install
Not every panic bar is the same, so there are options to consider when installing this, having it replaced or the like.
The good news is that our seasoned technicians can ensure that you are getting the right push bar for what you need. The push bars on the market are going to vary in the styles that they offer, their sizes and the functions. Thus, finding the one that not only looks good with your door, but also is going to be functional is highly important.
A few of the options that you may see out there include:
– Panic bars that have alarm functions
– Panic bars with keypads
– Panic bars with a cross bar
– Panic bars that are integrated with control systems in the building
– And other options as well
Exit Door Push-Bar Maintenance and Upgrades
On Point Locksmith offers panic bar installation and repair services throughout the Vancouver area.
Our goal is to always provide the highest quality of products when it comes to the panic bars that we offer our customers, as well as ensure that we are doing this at an affordable price point, and that our experts are going to give you the best recommendation for what you need, while also installing this as fast as possible with the best end results possible.
You can always count on On Point Locksmith for your panic bar needs.
Whether you find yourself needing to ensure these are up to code, you find that one of these is not working as it should, or you are building a new building that needs to be up to code, we are here to make ti happen. And our pros are happy to make this fit with your schedule!