Say goodbye to lost, stolen and just plain forgotten keys with Keyless door lock.
Electronic door locks are the locks of the future. They are the latest in locking technology and can give you an extra layer of security as well as the peace of mind that you deserve. Whether you're away on holiday, visiting friends and family, or in a deep slumber in the comfort of your own home, stress no more about the safety and security of your home with electronic locks. keyless entry locks also come with added security features, including: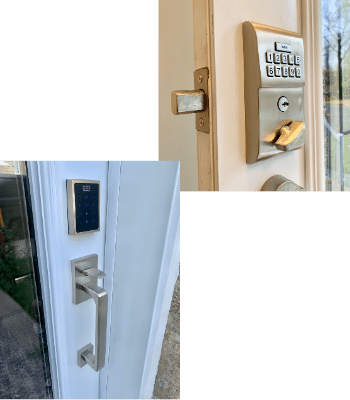 Advantages of Electronic Door Locks
They can be used in any door in your home, and provide many benefits over regular locks. We will take a look at these benefits as well as the best locksmith in Vancouver to contact to install electronic locks in your home today.
Keyless – Open your door with code
How many times have you searched everywhere for your house keys? You just wished that you could call your keys like you could with your phone, or better yet, not have the need for keys.
Well, the great thing about electronic locks is that you don't have to carry around a bunch of keys with you anymore.
Electronic keys are keyless and utilise various technologies to function, technology such as keypads, fobs, biometric, or smart technology to grant you access.
Pick Proof Locks
Manual locks can be picked by skilled burglars to gain access to your home.
The great thing about good electronic locks is that they are pick-proof. Essentially, electronic locks add an extra layer of security to your home.
More Control – You can open your lock with your phone
A key feature with electronic locks is that you can control them from a mobile app or through your online control dashboard.
These are only a few ways that you can grant and gain access to your home, there are so many other ways, whether through electronic pins, biometrics or remotely via app, electronic keys give you a lot more control over the security of your home.
Our electronic door locks for homes
Our electronic door locks for business
Professional Smart Lock Installation
If you're keen to incorporate electronic locks in your home and don't know where to start, and you live in Vancouver, then On Point Locksmith are the team of professionals to call.
We can help you with all your home lock needs, including the installation of electronic door locks.
Whether you want biometric locking systems, or keypad lock systems, or even mobile controlled locks, We have a solution for you.
Give us a call at: 604-398-2954
Most frequent questions and answers
We will provide you with a key so you will be able to open even if the battery is dead. 
Yes, the lock will have a red light when entering your code.
Yes, you can change the code any time and you can put up tp 20 different codes.
Yes, you can download the app to your smart phone to be able to open and close the lock.