Sliding Patio Door Repair and replace
When upgrading security locks on your doors, many people overlook the patio door.
Patio doors are often located in the back or on the side of a structure so they can be vulnerable for burglaries. 
Often they come with latches instead of locks.  Latches are not nearly as secure as an actual lock.
Patio doors are not like front doors that can be secured with deadbolts. 
However, it is possible to upgrade from a latch to make your patio entrance more secure.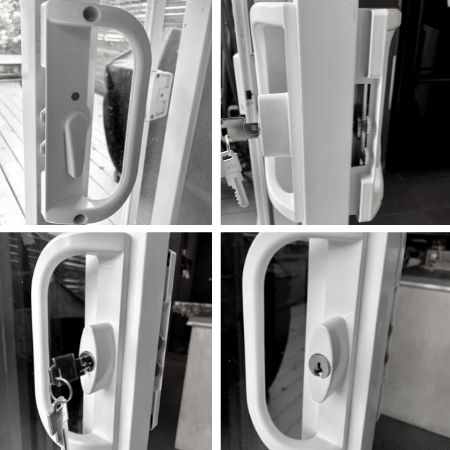 Add An Extra Lock To Your Exterior Sliding Doors
A mortise lock is situated inside a pocket (mortise) that is installed into the door. 
It is barely visible and only if you know where to look. 
It has three parts:  handles, thumb latch and lock body. 
It is a simple operation where you either turn or pull up the thumb latch (depending on the model) to change the position of the latch.  Closing is by turning it in the opposite direction. 
Most mortise locks are not key operated but some models can be converted to work with a key.
If you want a key cylinder, you will probably also need to change the handle. 
Unfortunately, these are pretty easy to bypass. 
If this is what you ultimately choose, make sure it fits your door and handles can accommodate either a right or left-handed handle.
Then we come to a two-bolt lock.  This is considered a secondary lock and can easily be installed on an existing patio door. 
It is in addition to the lock you already have installed. 
It goes above the existing handle with a non-moving portion is on the door jamb.  It is quite secure and easy to install.
We stock a number of models and manufacturers. 
When you decide you need a new patio lock and need expert installation, check us out.  Our Vancouver Locksmiths are happy to assist.