Scheduled Appointment Times
Never Wonder Again When Your Locksmith Will Arrive
When you need a locksmith service, it is your right to know when your locksmith will arrive.
On Point Locksmith aims to keep the service simple by providing customers with scheduled appointment times. 
No more guessing when your locksmith will arrive to get you inside your home or office. Instead of keeping your entire day open to wait for a technician to show up, simply give On Point Locksmith a call to know when a locksmith will arrive. 
Our customers are a priority as our locksmith service, and you can count on our team to provide you with the best customer experience from start to finish.
So before our professional locksmith team shows up at the door, you can feel at ease knowing you have a scheduled appointment with us. 
Whether you have a scheduled appointment or an emergency locksmith situation, we are available 24/7 to help. We provide annual lock maintenance, lock-outs, and check-ups, and you can count on On Point Locksmith to be there on time. 
Our team handles your situation with experience and friendliness and provides high-quality locksmith services to all in Vancouver and surrounding areas.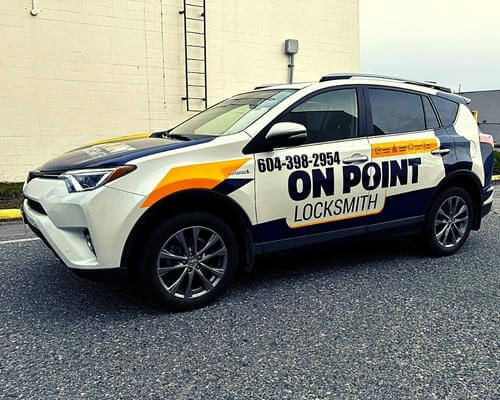 Patrick Parker
Service was terrific. Chatted with technician in morning and asked if he could come same day and he called and arrived before dinnertime. He was efficient and friendly and gets high marks. Congratulations on your high service level
Chanté Blais
Beyond coming the same day I called to fix my lock and replacing it quickly, Amit was very friendly and warm and a delight to spend the 10 minutes it took to do the replacement with. Great communication along the way, quick in and out for the job, and lovely easy chats along the way. Very happy with Amit and the experience!
Akuila Work
Amazing service and attention to detail. Showed up right to my front door and replaced a broken ignition cylinder on my 2007 Honda ridgeline. Thanks again boys. Much appreciated. Lifesavers these guys. If you need a locksmith. Save yourself a headache and call onpoint.
Customer Focus Locksmith Service