Hinges Replacement & Repairs
Home Security Depends on the Hinges
The security and accessibility of your home depend on the door's hinges.
If your hinges are rusted, bent, or not attached properly, it puts the integrity of your entire door at risk. The hinges hold the door in place.
They ensure the door's proper placement.
If the screws are stripped or loose, consider replacing the screws to repair the hinges.
If the hinges are bent, broken, or rusted, hinge replacement may be necessary to ensure the security of the entry door.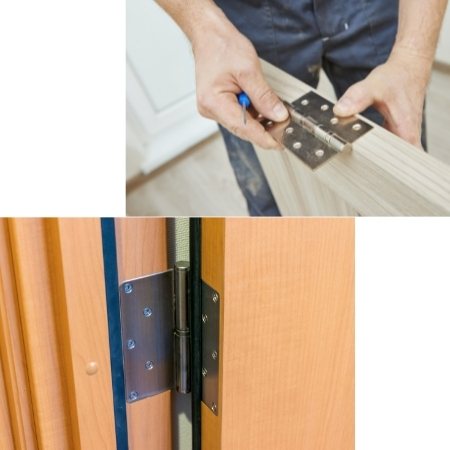 Importance of Proper Hinges
Ensuring that your door's hinges are in proper working condition is a matter of security and accessibility.
Your entry door can not swing open or closed with rusted or damaged hinges.
The hinges hold the door securely in place.
If the hinges are not aligned or capable of holding the door in place, the lock will be misaligned, meaning the door will no longer be secure.
In addition to that, damaged hinges cause door misalignment and further damage to the door, frame, and lock. Repairing or replacing the hinges could spare you a hefty entry door replacement bill.
Different Hinges for Different Doors
Our experts are capable of working with many types of hinges. To name a few, we have experience with continuous, hospital, concealed, and spring hinges.
We have the knowledge necessary to work with every type of door hinge to ensure that our services best suit your needs.
Onpoint Locksmith offers hinge repair and replacements to ensure your home's security. But, these services are just a few of the home security enhancement services provided by our door experts in Vancouver. Contact us today for flexible scheduling and consultation.