Lost all the keys for your Mazda? WE CAN HELP!
Do you own a Mazda car? You will find that when you have an issue with the keys, it may be hard to find someone to deal with this. That is why you always need to call On Point Locksmith for your Mazda key replacement needs.
Here at On Point Locksmith we pride ourselves on offering the most effective solutions for any automotive lock need. And we can do this when you need it, rather than making you wait for days and days for service.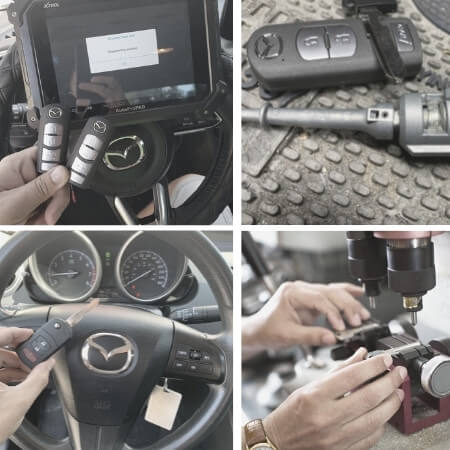 Mazda Keys and Fobs replacement at your location
When it comes to Mazda's, we offer several services all related to the key that is included with your vehicle. These services include:
– Replace the keyless remote
– We can get you back into your Mazda due to the keys being locked in or lost
– If the key is broken, we can replace this
– We can help to change locks on the vehicle  if this is needed
– If the key is stuck in the ignition and refuses to turn, we can correct this issue
– We can program the transponder key for your Mazda
– Replace the key fob for your Mazda
You will find that whatever key issue you may be having with your Mazda, we can get it done.
Mobile Expert Auto Key Duplication & Replacement
We offer our locksmith services 24/7. We understand that any automotive problem can happen at any time to you, and you do not want to find yourself waiting for hours or days for someone to help you.
After all, this is your personal vehicle, and you need to use this everyday.
You can count on us to provide you with fast service, upfront pricing and help you to avoid the stress that waiting can cause.
On Point Locksmith is here when you need Mazda key replacement, so call today!